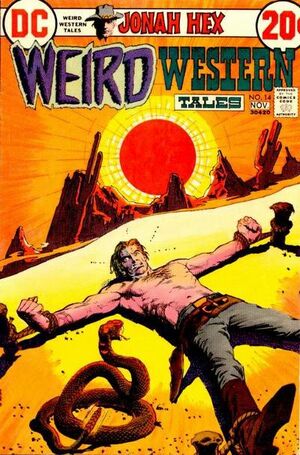 Weird Western Tales is a Western genre comic book title published by DC Comics which ran from June-July 1972 to August 1980. It is perhaps best known for featuring the adventures of Jonah Hex until #38 (1977) when the character was promoted to his own eponymous series. Scalphunter then took Hex's place as the featured character in Weird Western Tales.
The original title ran for 8 years and 59 issues. It started with issue #12, because it continued the numbering from the second volume of All-Star Western. It was published on a bi-monthly basis before achieving monthly publication with the November 1978 issue (#49).
It was later revived in 2001 as a 4 issue limited series. A one-shot revival of the series, utilising the original numbering, was featured in January 2010, as a tie-in to the Blackest Night event.
Ad blocker interference detected!
Wikia is a free-to-use site that makes money from advertising. We have a modified experience for viewers using ad blockers

Wikia is not accessible if you've made further modifications. Remove the custom ad blocker rule(s) and the page will load as expected.